Big Data for Smaller Players
Many large companies use advanced technology and expertise to capture and analyze data as they look for ways to improve business efficiency and customer interaction. Fortunately, a growing field of user-friendly software services enables small businesses with limited budgets to do the same.
For example, cloud-based applications can make it more affordable for small businesses to keep their technological capabilities up-to-date and take advantage of cutting-edge features, including data analytics and business intelligence. The "cloud" refers to the delivery of on-demand computing tools over the Internet, often by subscription or on a pay-per-use basis, without having to buy and maintain hardware, software, and servers.
---
Dashboard Goals
How companies are using their data during the pandemic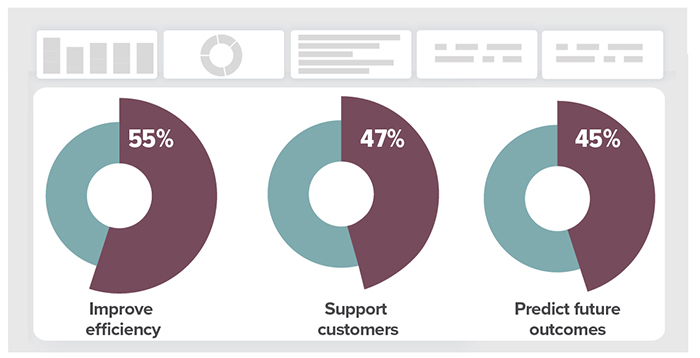 Source: State of BI & Analytics Report 2020, Sisense
---
Wealth of Information
Actionable analytics data is often presented on a dashboard — a visualization tool with an overview of important metrics and charts — which makes it easier for users to digest the numbers and track trends. Here are some of the ways data can be collected and used to help drive critical decisions.
Streamlining operations. Business intelligence software can take some of the guesswork out of running a company's operations. New applications may be helpful for predicting necessary staffing levels, tracking inventories, maintaining fleets of vehicles, or identifying high-performing products and services that tend to turn visitors into repeat customers.
Understanding customers. A customer relationship management (CRM) program can help businesses keep track of interactions with their clients, manage marketing campaigns, and gain insight based on clients' past behavior and tendencies. For example, it's simple and inexpensive to email promotions tailored to customer preferences. Keep in mind that businesses have a legal obligation to protect sensitive data collected from customers and employees.
Optimizing websites. Website analytics tools collect, report, measure, and analyze data on visits, page views, bounce rates, search terms, and more. This information can help businesses target prospective customers and gauge the effectiveness of digital marketing efforts.
Finding new markets. The Census Business Builder is an online data tool that provides free access to key demographic and economic data for research into potential new business and expansion opportunities. Users can search for industry-specific information, with local economic data available by county, city/town, and ZIP code. Professional reports (complete with charts and graphs) can be created for business plans, loan applications, and other business needs.1
Have you thought about how your business could take advantage of this technology trend? It might not involve sifting through massive amounts of data, but rather focusing on the activities that matter most to your bottom line.